CBD Growth in 2021. The CBD market is roaring along again at a CAGR pace that is overtaking the explosive growth of the marijuana side of the cannabis business. As reported in a recent issue of the EDGE Briefing that while COVID-19 shuttered many traditional businesses, more cannabis than ever before was consumed in the U.S. in 2020 – a record $17.5B in legal sales – a 46% increase from 2019, according to a recent report cited in Forbes published by BDSA. Overall, in 2020 capital flowing into the cannabis industry dropped to $4.2 billion from $11.6 billion in 2019, and the even higher level of $14.2 billon in 2018, as reported by Viridian Research. Yet, just in the first two weeks of January cannabis companies in North America raised over $619 million. All indicators point toward a record year in capital flowing into this formerly cash-restrained industry.
For cannabidiol, CBD, the global CAGR is predicted by Global Market Insights to be even higher, at a breathtaking 52.7% in a market size that exceeded USD 2.8 billion in 2019 and could climb as high as USD 89 billion in 2026.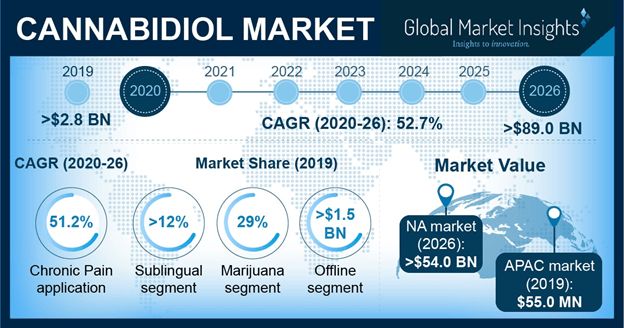 While predictions vary, other sources substantiate the expectation for massive growth in the CBD market. BDS Analytics predicts a $40 billion U.S. market by 2024.  The Brightfield Group sees cannabidiol sales reaching $23.7 billion by 2023, with other experts feeling this is an understatement as both the U.S. and, in particular, the Asia Pacific markets continue to evince fast paced growth. One study reported by CBD Advertising predicts a global market CAGR at over 125% as a proliferation of products now available in the health sector of the marketplace continue to expand into the cosmetics, food and beverage segments.
The glowing predictions for revenue for CBD product sales are also supported by an analysis from Data Bridge Market Research, the multinational management consulting firm, that CBD oil extract market growth will reach USD 25.6 billion by 2027, and the CBD vape juice component of the market will grow to USD 28 billion by 2027. This they attribute to growing vaping for medical and wellness uses for the potential healing properties of CBD.  While the skin care segment of the global CBD market, valued at USD 221.2 million in 2020 is expected to reach USD 832 million in 2026.
Overcoming Setback
The extreme loss of value made many investors cautious. This made it a lot harder for new entrants to attain funding and for existing folks who are not executing to stay.
These forecasts were not attuned to the way the CBD market was looking in the recent past.  In an article in February by Smoke Wallin, CEO of Vertical Wellness, he points out that after the passage of the Farm Bill in 2018, a veritable gold rush, "CBD 1.0," began in the budding CBD industry bringing in hundreds of millions in investments and a frenzy of new farm production matched by a proliferation of startup businesses by inexperienced operators.  The resulting oversupply and management missteps by those incapable of turning startups into multi-million dollar operations began dragging the industry down when an additional blow was dealt by the FDA.  The regulatory agency took the position that, even though no public safety/product efficacy standards were established, all CBD ingestibles were deemed unsafe until proven otherwise.  This led to the cancellation of product orders by major retailers who had planned to stock various types of CBD products.
Now in what Wallin deems "CBD 2.0" he sees these factors now leading to the future of a thriving CBD industry:
Only the strong survived the great destruction of CBD 1.0 – those of us remaining either pivoted, figured out how to turn a profit, or emerged with a new focus on execution.
The extreme loss of value made many investors cautious. This made it a lot harder for new entrants to attain funding and for existing folks who are not executing to stay.
In spite of the FDA's inaccurate proclamation against the safety of CBD, consumer demand for health and wellness products has only grown, with this previously existing trend only heating up even more in the age of COVID. Fundamentally, consumers want natural alternative solutions (to BigPharma drugs) to address inflammation, sleeplessness, anxiety, pain, and other aliments.  Cannabinoids increasingly demonstrate their proper role in solving this consumer demand.
Retailers who are coming out of a crazy year of focusing on essential supplies or being shut down are looking for new ways to grow. CBD is back on top of their list of growth categories and promising opportunities.
Efficacy matters. More and more companies and brands today are focused on the real impact CBD and other cannabinoids can have on people's lives. Faster-acting products with clear compelling uses will lead the growth.
More legitimate, credible brands are emerging. Consumers want CBD, but they don't know who or what to trust because of the lack of workable regulations and proliferation of unknown, unproven, generic brands. That is starting to change as premium brands are being backed by credible companies and honest leaders with proven track records.
Factors Driving the CBD Market
The key factors center around the legal status being given cannabidiol, brand positioning of cannabidiol as lifestyle and wellness products, and the new type of customer being attracted to this non-psychoactive form of cannabis.
Since its legal approval of CBD in the U.S. and Canada, several countries in Europe, Latin America (LATAM), Asia-Pacific (APAC) have lifted sanctions. APAC, as it turns out, is now projected by some to become the world's largest CBD market as early as 2025.
The major beverage companies are preparing plans to enter the CBD market. Constellation Brands invested USD 4 billion into the large cannabis company Canopy Growth. Coca-Cola is rumored to be in talks with the Canadian cannabis giant, Aurora Cannabis, to create a CBD beverage. Even Starbucks is examining various avenues to extend its branded products into CBD. This movement in the beverage industry is driven by the finding by Prohibition Partners that one in five current and potential consumers of cannabis or CBD/hemp-infused beverages do so/would do so as a replacement for alcohol beverages.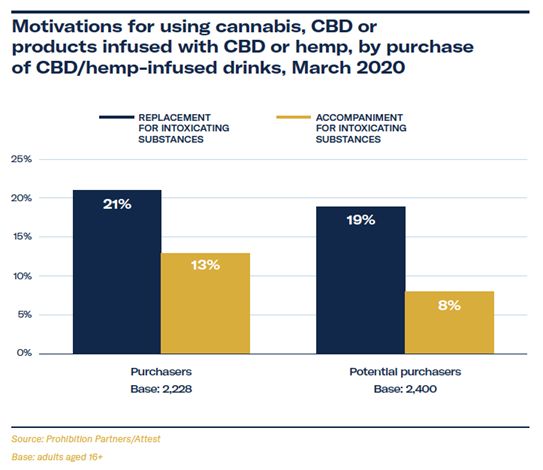 The global size was of the CBD pet market, according to Grand View research, is expected to reach USD 399.2 million by 2027, expanding at a CAGR of 40.3%. Owners projecting perceived benefits of cannabis on to their pets and a preference for natural pet supplements have led to an upsurge in market growth.
As began during the pandemic it is expected that cannabis companies will continue to thrive in the telemedicine industry as patients seek easier and efficient forms of access to their medications.
And, a new customer, in fact an enthusiast, is turning to CBD not at all seeking a psychoactive reaction.  Instead, they are looking for the cannabis derivative that can increase cognitive functions, provide relaxation and improve health and wellness.  The new customer is typified by what CBD Advertising has found from studies by major social media.  Reddit, for one, includes 66,000 subscribers who regularly discuss various CBD products/manufacturers.  Virtually the same can be found on Facebook, Instagram, and Twitter.  According to studies among the major social media, over 40% of people aged 21 years and above have indicated that they will try CBD products.
Why CBD in the First Place
Cannabidiol is a compound found in hemp plant which is being utilized due its therapeutic properties in humans and animals. The growing trend among individuals to treat a variety of ailments such as anxiety, nausea, stress, chronic pain, neurological conditions and seizures is booming. This is due to the antibiotic and analgesic properties present in cannabidiol.
The major breakthrough for CBD companies came in December 2018 when President Donald Trump enacted a new Farm Bill. According to it, the cultivation, manufacture, distribution, and dispensing of hemp was now allowed and CBD was legalized – as long as it is produced under certain restriction stated in the Farm Bill. Independent CBD farms, like Boot Ranch Farms of Colorado, are thriving under the new laws.
The number of chemical compounds found in the cannabis plant varies among scientists to be between 113 and 144 separate chemicals.
Preliminary clinical research has indeed shown that CBD:
has anti-inflammatory properties
helps to reduce anxiety and stress
improves the quality of sleep
boosts cognition.
And, gradual legalization is taking the stigma of being a volatile gateway drug off of cannabis to the extent that it has been found in various studies that when consumers speak of cannabis they most often equate it with CBD.
Who are the Major Players
In the CBD oil extract market: Aphria Inc., Aurora Cannabis., Boot Ranch Farms, Canopy Growth Corporation, CV Science, Folium Bioscience, GW Pharmaceuticals, Green Roads, HempLife, Kazmira, The Cronos Group, Maricann Group, NuLeaf Naturals, Tikun Olam, Tilray.
Reservation
In no way to contradict the glowing forecasts for the industry there are, nevertheless, cautions about any market investment that need to be considered. In the case of CBD, the lack of clarification by the Food & Drug Administration and scattered regional regulations leaves gaps in product quality and consumer safety that must be addressed. The sooner the FDA clarifies its position products containing impotent levels of actual cannabidiol and manufactured with unnecessary ingredients and dubious extraction methods can be removed from a stain they may leave on the legitimate producers.
The lack of guidance to this point has restricted many national retailers to carrying only CBD topicals.
Fits and starts are characteristic of the marketing efforts of CBD companies to date due to the vagaries of the laws in state and local jurisdictions. Consequently, the path is still open for quality manufacturers to establish national brands to the level of market leadership.
The Emerging Investment Strategy in the Industry
Much like is happening in the cannabis industry in both the U.S. and Canada, in the CBD market Mergers and Acquisitions are being implemented as consolidation is seen as the best way to solidify a position in the industry. In recent years, major names engaged in cannabidiol-based product manufacturing have engaged in M&A transactions:
Last year, Charlotte's Web(NASDAQ: CWBHF), marketer of hemp-derived CBD products, after receiving approval from the U.S. Hemp Authority and National Animal Supplement Council for its CBD supplements, tinctures, and topicals for pets, acquired Abacus Health Products (CSE: ABCS), a leader in OTC hemp extract topicals, in order to improve its product portfolio. The acquisition will result in a new entity with an estimated $190 million in 2020 sales and a market cap of some $450 million.
Yunnan Lvxin Biological Pharmaceutical Co. bought Hemp Foods Australia, the hemp subsidiary of Elixinol Global giving Yunnan Lvxin the rights to the intellectual property (IP) of Elixinol and license to distribute products in Taiwan and mainland China.
CBD Unlimited, Inc. (OTC PINK: EDXC)recently acquired Kush, Inc., a New York based media driven entity that builds brands and also owns kushware.net.
Boot Ranch Farms, out of Colorado and Utah, is known for their highest quality CBD product on the market today. The new industry is allowing for independent grower/distributors to excel and push the quality expectations to the highest threshold. Boot Ranch Farms is an excellent example of this trend.
And, in a market expanding development reported in the Stock Market Press:
Not only can M&A activity in CBD mean more sales and market cap in a consolidated business, but it can also mean the entry into the industry of mainstream names.
For example, the recent move by mainstream firm Colgate Palmolive (NYSE: CL) to acquire Hello Products and its line of oral hygiene products — CBD-infused toothpastes, toothbrushes, mouthwashes and lip balms. Colgate Palmolive is a trusted, mainstream and established brand. Its entry into CBD-infused product in the oral hygiene area raises the profile of CBD on the shelf. The Hello Products line consists of seven products: three CBD-infused toothpastes, two mouthwashes and two lip balms. Hello Products is an oral care brand based in New Jersey.
Mitigating Risk and Maximizing Upside in this Investment Space
The evidence continues to mount that phenomenal growth is ahead for the cannabidiol segment of the cannabis industry. However, especially in emerging markets, due diligence is key to identify the real players from the pretenders. Here is the approach we take with our clients for risk mitigation prior to presenting cannabis investment opportunities:
First, we ascertain if the company and founders have backgrounds in cannabinoid-based science and marketing. Without this background the chances of success are greatly diminished.
Second, we ensure that the company is familiar with and focused on meeting EU cGMP requirements for manufacturing pharmaceutical grade products. This is likely to become a competitive advantage, at least, and most likely a regulatory requirement in the future. If a standard like this is not in place, we typically advise moving on because the lower quality companies are a dime a dozen, and destined for commoditization.
Third, we assess the regulatory regime in the company's home market, and in the target markets. And, we analyze the ability of the company to scale in the context of near, medium and long-term market expansion as new major international markets come online. In our opinion it is critical for a properly positioned cannabis company to have the ability to scale rapidly in order to capitalize on the massive global market potential.
Investor Takeaway
The CBD market is roaring along again at a CAGR pace higher than the explosive growth rate of the marijuana side of the cannabis business – a breathtaking 52.7% CAGR in a global market size that could climb as high as USD 89 billion in 2026. The glowing predictions for revenue for CBD product sales are also supported by the market growth of the CBD oil extract and CBD vape juice components of the market, cosmetics/skincare, beverages, and the $400 million potential in the pet market for CBD. CBD companies had a major breakthrough in 2018 when President Donald Trump enacted a new Farm Bill. According to it, the cultivation, manufacture, distribution, and dispensing hemp was now allowed and CBD production was made legal under restrictions stated in the Farm BIll. Thus, the supercharged CBD market began in earnest. After initial setbacks in 2019 and continued lack of clarity by the FDA is the industry now reset for "CBD 2.0?" Fits and starts are characteristic of the marketing efforts of CBD companies to date due to the vagaries of the laws in state and local jurisdictions. Consequently, none of the companies attempting to establish national brands have risen to the level of market leadership. Yet, predictions are still strong that these hurdles will be overcome and consumer demand will pull this facet of the cannabis industry to its full potential. In all cases, due diligence with experienced guidance in cannabis is the first step in approaching this marketplace.

LEARN THE CBD BUSINESS FRONT TO BACK