10 Best XML Sitemap Generator Tools? What are they anyway? XML sitemaps are an essential and important tool to help crawlers (Google) navigate and find new pages on your site. The sitemap is a way to show Google the pages that do matter on your site and say 'this page exists and you can consider it for indexing'. A sitemap doesn't automatically guarantee you will be indexed and appear in search results. But, it helps a great deal.
Without a sitemap, you will struggle to get all your pages indexed.
1. Slickplan
An intuitive tool that will help you easily create elegant and professional-looking sitemaps.
The interface allows for easy drag-and-drop creation plus customization with colors and images. The final output options include a scalable vector graphic for client presentations. Or, a simple text or XML file.
In addition, Slickplan integrates with Basecamp and offers a WordPress plugin – allowing easy sharing and collaboration between multiple users and editors.
In fact, Slickplan can be used for more than just generating sitemaps – it's a handy tool for planning websites, creating a process flowchart, or developing information architecture for any type of project.
Slickplan features include:
Drag and drop builder
Custom page type inclusion
Import text file
Cloning
Batch editing
Highly customizable
User permissions
Custom branding
Slickplan offers a free 30-day trial and has multiple pricing plans starting at $8.99/mo. definitely among the 10 Best XML Sitemap Generator Tools.
2. Dynomapper
A great visual tool for developing interactive sitemaps where you can choose from 3 sitemap styles (default, circle, and tree) and can customize them with your logo and color scheme.
The sitemaps display more than just URLs – users can collaborate and include comments, analytics data, categories, and more.
With drag-and-drop functionality, advanced crawler options, and analytics integration, Dynomapper is a great visual sitemap tool.
Dynomapper features include:
Monitor URLs in sitemaps in Google Analytics
Highly customizable
Custom page type inclusion
Workflow management
URL tagging
Sitemap filtering
User permissions
Custom branding
Dynomapper has a 14-day free trial and pricing plans at $40/mo.
3. Writemaps
Similar to the other visual tools mentioned, WriteMaps offers a simple interface and customization with colors and allows you to map and collect page content.
You can also archive old sitemaps to stay organized and share between both internal teams and clients. Export your final product as a PDF or XML sitemap.
Writemaps features include:
Customizable
Custom groups
Drag and drop builder
WriteMaps lets you build 3 sitemaps for free or 15-day trial on paid plans, pricing is $14.99/mo.
4. Mindnode
Rather than a sitemap generator tool, Mindnode is a mind mapping tool that can be used to plan a project in a visual way. This functionality lends itself to planning out website sitemaps if you like to do this in a visual way.
You can't export your visual sitemap as an XML file, but you can get a simple text outline version or a PDF version for client presentations.
Mindnode features include:
Themes or customizable
Drag and drop
Export as plain text, CVS, PDF or PNG
Mindnode is an App for Macs, iPhones, and iPads with a free editor version. Mindnode pro has a free trial for 2 weeks and then $2.49/mo.
---
5. PowerMapper
PowerMapper offers one-click, automatic site mapping to save you the time of building a manual sitemap. It's useful for planning a website, as well as identifying existing site map errors, compatibility, and usability issues.
This tool is marketed as a visual sitemap generator but is more limited than the other tools above.
Sitemaps can be exported as an XML file or Excel CSV.
PowerMapper features include:
Single click creation
Customizable
Export as XML or CSV
PowerMapper offers a 30-day money-back guarantee on a $149 single-user license
It's also bundled with OnDemand Suite that offers a free trial for 30 days and plans from $49/mo.
---
Other XML Sitemap Generator Tools
If you prefer to use a 'classic' sitemap generator tool, there are others to consider.
---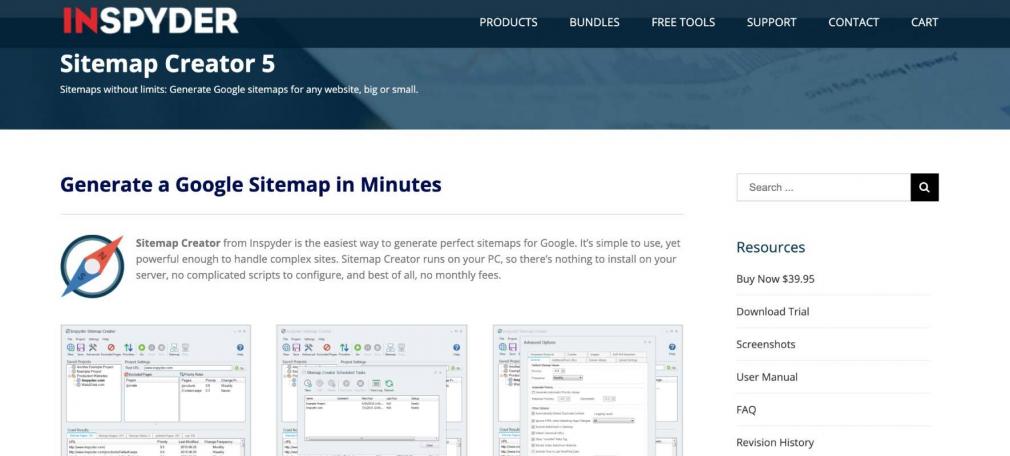 6. Inspyder Sitemap Creator 5
A simple, quick desktop install for a one-time cost that lets you generate accurate XML sitemaps, in addition to mobile-specific, image, and even video sitemaps.
The Sitemap Creator automatically creates your Google sitemap, uploads it to your server, pings you, and sends you an email notification – making it a very convenient choice.
Inspyder also offers some free tools like a URL/HTML encoder that might be useful to you, or take advantage of their bundle packages for more robust tools.
Inspyder features include:
Customizable
Image, video, mobile sitemaps
Scheduled generation
Built-in FTP/FTPS/SFTP Client
Email notification
Automatics search engine ping
Inspyder Sitemap Creator offers a free trial limited version and a one-off payment of $39.95 for full functionality.
---
7. XML-Sitemaps
An AWESOME tool that offers both a free sitemap generator and a Pro paid version with extended functionality.
The free generator only requires 4 quick steps. Set the frequency to how often the content on your selected URL will change, include the date it was last modified, and use the automatically calculated priority option to indicate the URL's importance relative to other pages on the site.
XML-Sitemaps also offers some additional SEO tools including an XML sitemap validator, competitor analysis, keyword density calculator, and a SERP page checker.
XML-Sitemaps features included:
Image and video sitemaps
Email notifications
Mobile app
Detects broken links
The XML Sitemaps basic generator is free to use up to 500 URLs and the Pro version starts from $3.49/mo.
---
WordPress XML Sitemap Generator Tools
Historically, WordPress has always needed a third-party plugin to generate XML sitemaps.
In June 2020, XML sitemap function was (finally) announced as part of WordPress 5.5 Core.
If you still want additional control over your sitemap, the following WordPress plugins are among the better known.
---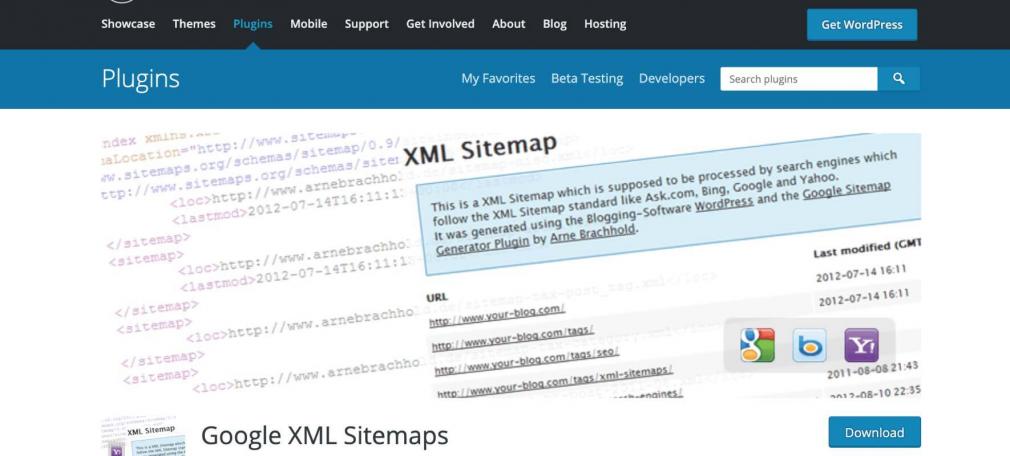 8. Google XML Sitemaps
Not to be confused with an official Google tool as it's an independent third-party plugin on WordPress. However, it has a high rating on WordPress with over 2,000 five-stars.
The tool can build dynamic sitemaps from all types of WordPress pages and include custom-built pages.
Google XML Sitemaps plugin is free. I like FREE so it's one of the 10 Best XML Sitemap Generator Tools.
---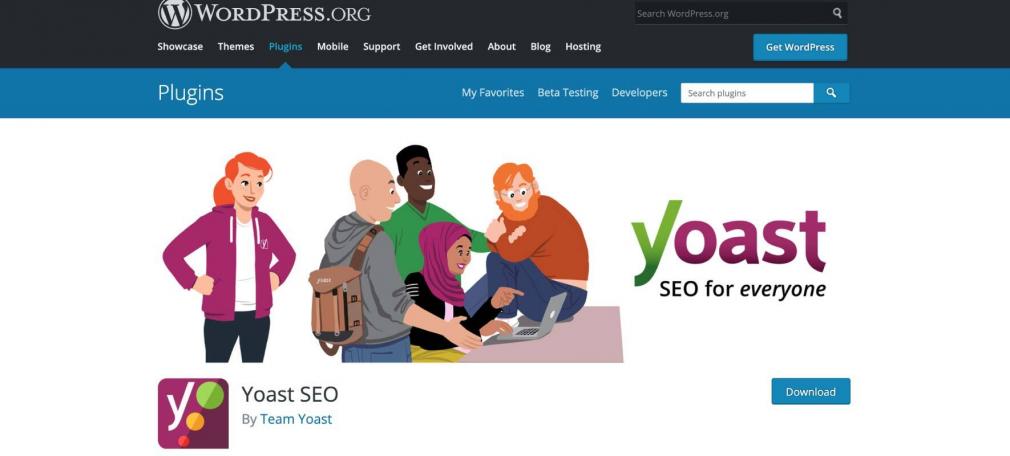 9. Yoast SEO
Probably the most well-known WordPress plugin for basic SEO with over 25,000 five-star reviews. It does a solid job for those below expert SEO level.
The Yoast tool has been the go-to tool for many a WordPress site owner to quickly and easily insert an XML sitemap.
It's basic, but it's functional and creates dynamic sitemaps.
Yoast SEO plugin is free with a premium paid version for extended SEO capabilities.
---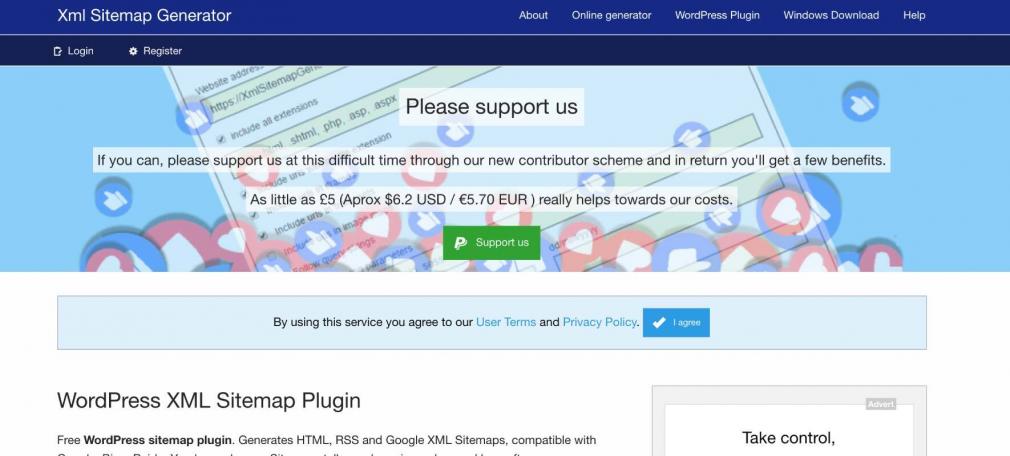 10. XML Sitemap Generator
Another solid option for generating a sitemap within WordPress in XML, HTML and RSS format.
WordPress XML Sitemap Generator offers easy setup of your sitemap settings and an automatic ping option for when you have updated pages or posts. The plugin is highly customizable.
XML Sitemap Generator is free to use.
---
How to Submit a Sitemap
Once you've generated your sitemap, you'll need to upload, check and validate it.
Google offers some great guidelines for sitemap best practices, including how to format the sitemap here.
You can then submit your site to Google so it knows that it can find the new sitemap or it knows that it's changed.
The easiest way to do this is through Google Search Console.
Or you can add a snippet of code to your robots.txt file:Sitemap: http://example.com/sitemap_location.xml
For more about submitting your site to Google and other search engines, you can read this in-depth article from Jason Barnard here…
Don't forget: if you make any changes to your website, always update the sitemap and resubmit to Google.
I am the Nerd of Fortune. I have been hustling from home (part-time) for about 10 years & working exclusively from home for several years – and loving it! I am a firm believer in making 'working from home' a success for everyone…