Resources to Learn WordPress? Well let's get to know WordPress first: WordPress is one of the most powerful Content Management Systems (CMS) to date. People love it because it is so easy to use. However, as you begin to dive deeper, you will find out that there are quite a few things to learn about WordPress.
Moreover, using WordPress means you can build different kinds of websites. With it, you can start an eCommerce site, a news portal, a blog, an online portfolio, a discussion forum, and many other sorts. There are tons of WordPress resources on the Internet but not all of them are credible. That's why we have created a list of the best resources to learn WordPress.
Video Tutorial
Check out this video tutorial below to learn more about WordPress!
Recommended Resources to Learn WordPress
Now that we have collected a list of topics about WordPress we think you should learn, let's jump into the list of the best resources to learn WordPress from.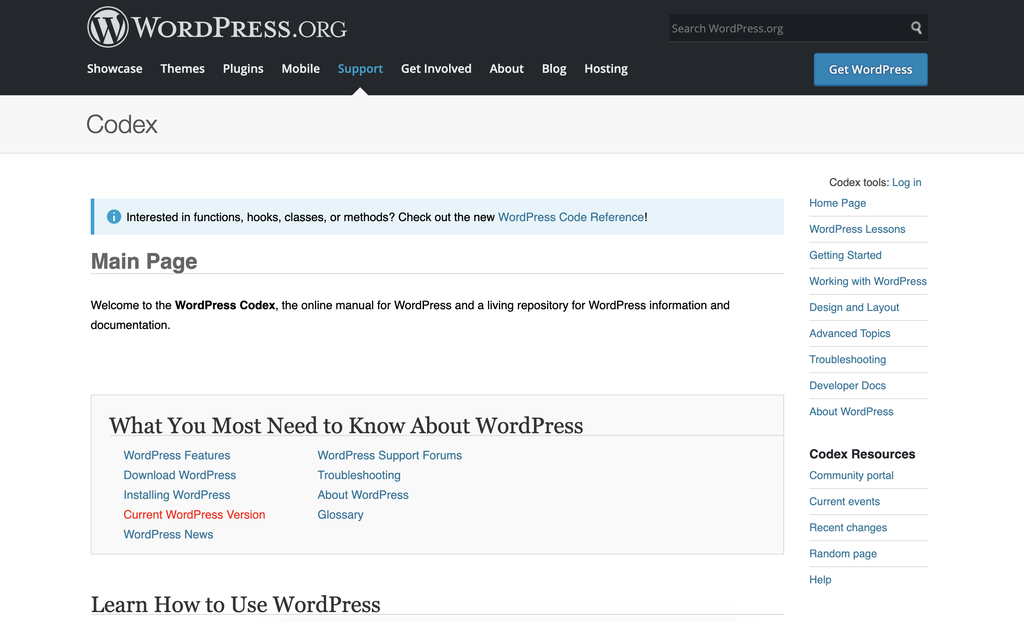 WordPress Codex is just like the WordPress online manual book. Hosted by WordPress.org, it is a trustworthy resource to learn about WordPress for free. These pages offer extensive documentation on all issues related to WordPress. Therefore, it is suitable for any web, plugin, or theme developer that wants to learn about all the technical things behind WordPress.
The best thing about WordPress Codex is that it is also a wiki. This means you can take part in editing, translating, contributing, and also discussing every piece of information in its repository.
If your concern is just learning WordPress on a surface level, you can skip WordPress Codex without fear of missing out. But if you are looking for a bit more information, this is your place. This makes this one of the best Resources to Learn WordPress?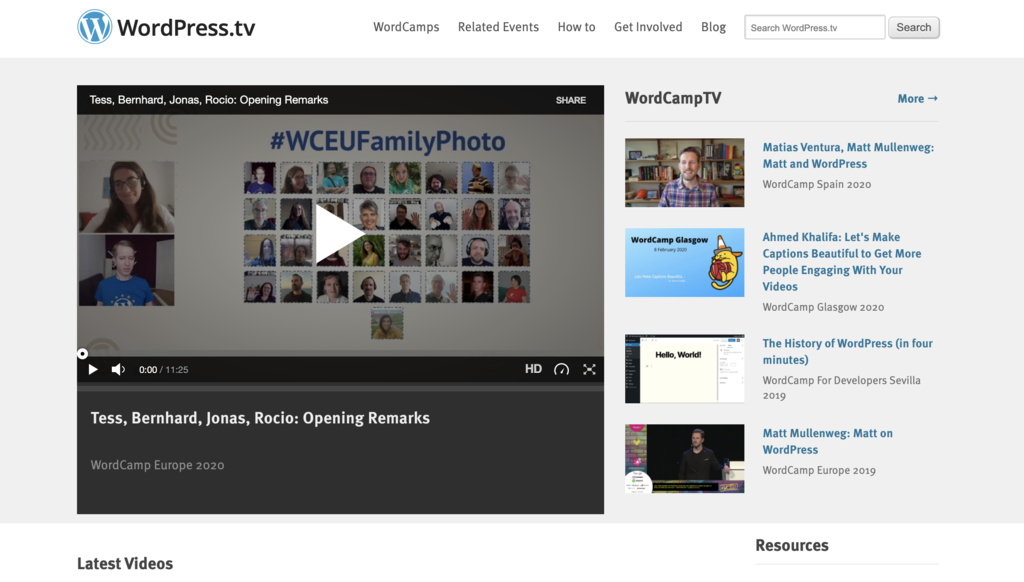 Like WordPress Codex, WordPress TV is owned by WordPress.org and is a great Resource to Learn WordPress?. It is free and there's no need to sign up. Just like the name suggests, WordPress TV uses video tutorials to share knowledge with its visitors. The videos are easily digestible for beginners and cover a wide range of topics like using WordPress or recent news related to web development.
Moreover, the videos are also made by WordPress users. As long as you follow the terms and conditions, you can also submit your videos and join the community of WordPress users around the web.
Another cool thing about this site is the ability to browse its content by preferred language. Use this tool to find content easier for you to understand or help you to study another language.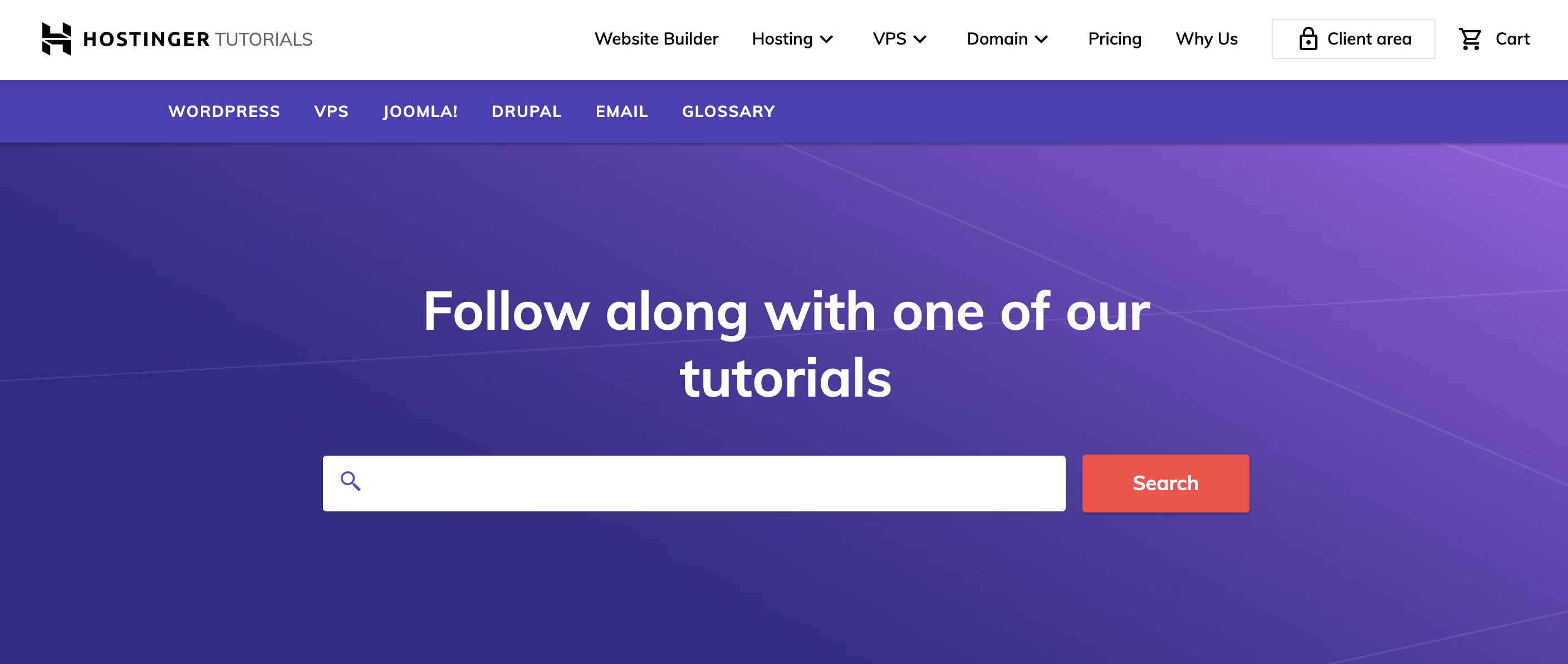 SiteGround, while primarily being a website hosting solution also has an extensive WordPress knowledge base. Its list of tutorials is a great resource to get started on all things that are web-related. There, you can find countless articles that will help you achieve your online stardom. Siteground is, hands down, one of the best Resources to Learn WordPress.
The tutorials are completely free and the site is easy to navigate and find what you want to learn. It has an extended section to accommodate all things about WordPress. It's a perfect place to get going if you have chosen SiteGround as your hosting platform.
Don't let the name Tutorials mislead you though. The articles are not limited to "How-to" content. It also discusses other topics such as plugins, WordPress themes recommendations, and more technical matters. Moreover, SiteGround Tutorials also provide a beneficial knowledge base for other content management systems, such as Joomla! and Drupal. You can find all the WordPress content here.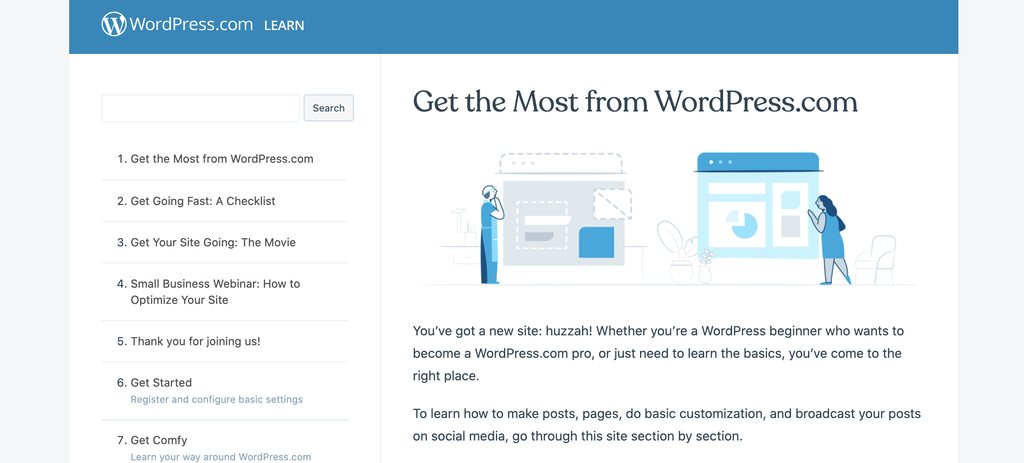 Besides WordPress TV, WordPress.com also released a super friendly resource for beginners called LEARN. This official WordPress website will help you learn all the basics for free.
Official WordPress Lessons will lead you step-by-step to make even the most basic configurations to your website. It covers content like the preparing stage, theme picking, personalizing your website, publishing posts and pages, and all the other basic functions.
Although it's not full of attractive images or videos, the steps can be easily followed by beginners. If you want to learn WordPress at an intermediate level, this resource is not recommended. But, for beginners, this is one of best Resources to Learn WordPress.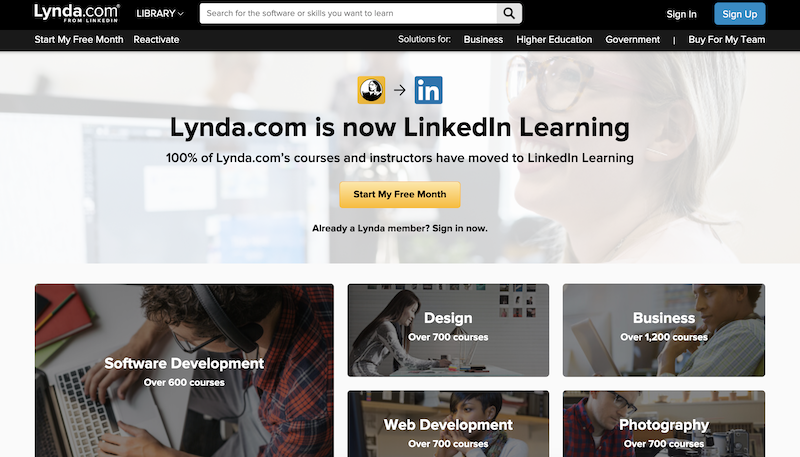 Lynda offers online courses on broad topics such as business, design, photography, software development, and much more. How to use WordPress, of course, is one of them.
If you choose to learn WordPress from Lynda, you will get one month for a free trial. After that, you need to pay $29.99/month. Choosing the annual plan gives you a 33% discount. Although it's not free, the Lynda subscription is worth every penny.
Watch video tutorials repeatedly, practice with quizzes, and earn certificates for course completion. The subjects are also classified by skill level, duration, subjects, authors, and learning types. You can also see how many views a course has been viewed to help you find the best match.
Smashing Magazine is an online publication magazine that covers topics ranging from web design, graphic design, coding, to mobile development. All that while, they keep their content absolutely free. They are a great Resource to Learn WordPress.
Smashing Magazine has an extended category that exclusively contains all things WordPress. The articles are set up in a blog structure to make it easily digestible for readers. However, you may find that most of the articles are not so beginner-friendly.
The articles give you an estimated time to read as well as a comment section. This can help you see what has worked for others, or if the article is worth reading.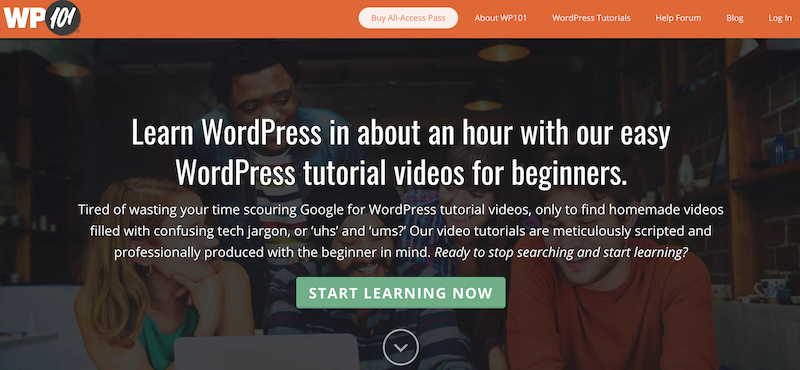 WP101 is a video-based platform that focuses on sharing every tutorial about WordPress. This platform is most suitable for beginners. Moreover, WP101 promises that its beginner users will understand the basics in 1 hour.
The videos in WP101 are also categorized for every difficulty level available for WordPress. Even more, WP101 shows you a closer look at popular plugins for WordPress such as JetPack, Yoast SEO, Gutenberg, WooCommerce. This educational platform also offers helpful answers if you have further questions.
To get the services above, start with the free videos on each course. Then, you can unlock the lesson with an All-Access Pass for $19/month, $49/year, or $99 for lifetime access. You can also try WP101 for a week and receive a full refund if you choose to cancel.

WP Sessions is a great platform when you are ready to move past the beginner level and on to more intermediate or advanced content. Not only that, WP Sessions' collection of videos help with more than just your WordPress site. It aims to help you launch your business in the best way possible.
You have to become a member if you want access to all its training content. But at only $15 a month, it isn't going to break the bank and it's a Resource to Learn WordPress.. If you love it already and want to up your subscription, you can purchase a yearly plan and get 5 months free. This lets you download training courses straight to your computer, take bonus courses and personal guidance on what to learn next.
WP Apprentice offers a free Quick Start that helps you learn the basics of WordPress in an hour. With 10 beginner-friendly video tutorials, it has the perfect courses for a beginner.
After that, you can buy the WordPress Essentials Course, which has bite-sized training geared towards beginners. For $15/month you can get an All-Access Pass or get six months for $75. WP Apprentice has tutorials and offers videos as well as articles to help you master WordPress.
With WP Apprentice you will learn how to publish engaging content, add business features, improve your search ranking, sell your products and services, and more.
WPKube is more of a blog than a course, but, it is a great Resource to Learn WordPress.. Plus, it's free. You can check out beginner guides and reviews, as well as search through specific categories.
The best way to utilize WPKube is by signing up for its newsletter via your email address. That way, you can stay up to date with new content delivered straight to your inbox.
ithemes has a training section set up just for WordPress tutorials. They have everything from what it is, how to log in, how to add links, and more. ithemes also provides free live webinars which you can easily register for on their site. If you can't make any of the upcoming ones, you can simply watch the past webinars, no sign up necessary.
This site doesn't just offer WordPress tutorials though, you can learn branches of WordPress like SEO or plugins. The range of skill levels start at beginner and go up to advanced.
Sign up for a 3o day free trial, and if you like the content, you can pay $39 per month after that.
If you're looking for a complete guide that comes bundled with practical advice, current techniques, and a bunch of real-world examples, then you should read The Tao of WordPress. Whether you're a beginner or an advanced level user, this book has all you need to succeed with WordPress.
The Tao of WordPress uses simple steps to explain each material. It also tries to keep the amount of complex code minimal, making every lesson easy to digest.
This eBook begins with the basics, such as using built-in settings, themes, and plugins. From there, it shows you how to configure, secure, and optimize your website.
Besides providing the basics, this guide also teaches how to improve SEO, which is essential to increase the visibility and success of a site. Not only that, you'll also learn how to modify a website that fits your project by adding additional elements like social media, forums, and sliders.
At the end of this book, there is an extra chapter with tips and tricks on adding new functionality and fine-tuning your website's look. Plus, The Tao of WordPress comes with a free theme, which is flexible, responsive, lightweight, and presents WordPress's best features. This web design can be used as a tool to learn how to create and customize themes.
The price to get this eBook, an exclusive theme, access to its members' area, and free lifetime updates is $38.
Udemy is a learning source where you can find tons of courses and tutorials, including ones that are related to WordPress. Most of its lesson plans include high-quality videos, outlines, and downloadable content.
For people with limited time, Udemy is a great place to quickly learn and understand WordPress. Its modules are usually shorter than most Youtube tutorials, yet provide much more information. Udemy also allows you to stop in the middle of the course and start again where you left off.
Udemy offers plenty of free and paid WordPress courses. All you need to do is go to the website and search for the topic you're looking for. Since this learning platform shows reviews and ratings of each course publicly, the top-rated courses will be pushed to the top of search results – this makes it easier to find suitable content for you.
Some of its free basic courses cover topics such as Steps to Create a WordPress Site from Scratch, Complete WordPress Security, and How to Build a Website for Your Web Design.
If you prefer to learn from top-rated instructors, you can enroll in Udemy's in-depth courses. The prices of the most popular courses start from $11.99.
With the paid courses, you'll have access to chat rooms and message boards, meaning you can ask any question when having an issue with the content. You'll never lose access to Udemy's lesson plans that you've purchased – all of the paid modules are yours for the lifetime of those courses. I personally feel Udemy is THE best Resource to Learn WordPress.
Joy of WP is another excellent source to learn WordPress. It has over 50 videos that cover all the essentials. The website owner can also be reached in many ways, allowing readers to ask questions about the courses with ease.
This site offers two free courses – the WP A to Z Series and How to WordPress. The former shows you all WordPress basics in six modules, such as how to get started, links, themes, blogging, plugins, and web hosting. As for the latter, it provides two modules – using Gutenberg and WP Potpourri.
Every module on this website has topics that provide a video and an occasional pop Quiz to ensure that you understand the lesson. Yet to gain access to the entire course, you must create a user name and password first.
If you want to get personal attention and more in-depth lessons, feel free to sign up for Joy of WP's private training. Some topics that you can learn here are Elementor, Gravity Forms, and WooCommerce. All subjects come with different costs, which range from $85 to $200.
It's also possible to request a custom class where the lessons are specifically created for you. Simply state what you want to learn and the site owner will figure out a fee for your custom online courses.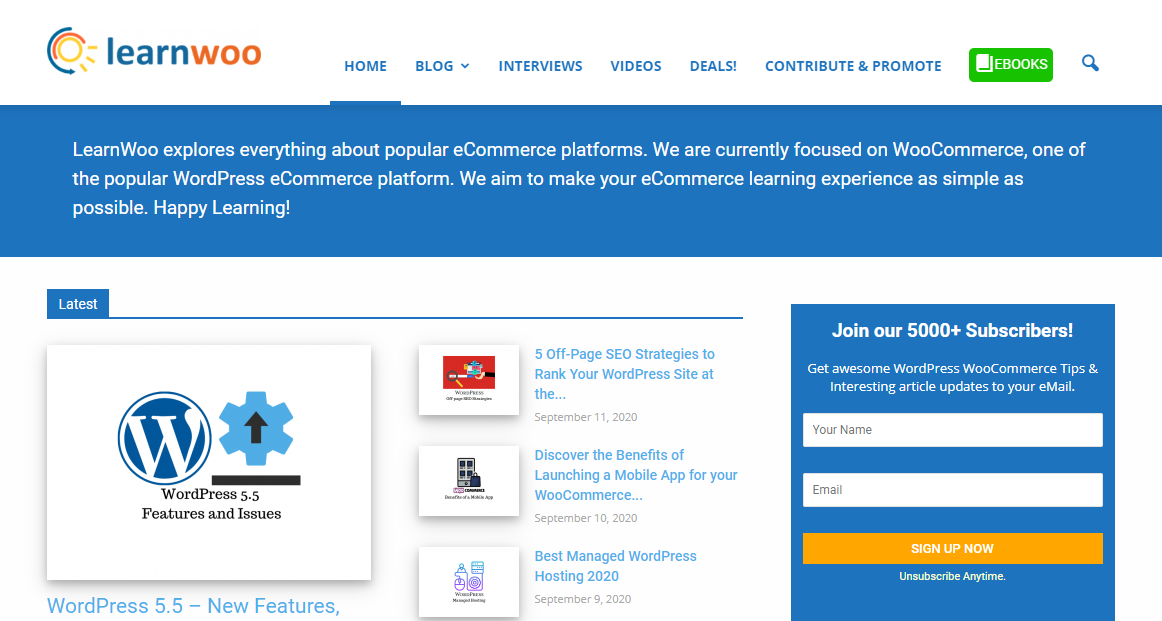 LearnWoo is a website that shares content related to the most popular eCommerce platforms, and one of them is WooCommerce – WordPress' most popular shopping cart plugin. Besides that, this site also provides many articles and sources to learn WordPress.
In its blog section, there are over 100 articles that talk about the basics. Some available topics include building a free website, installing a theme, and a quick guide to WordPress debugging.
Aside from the articles, LearnWoo also has so many informative videos covering plenty of topics, from the best WordPress plugins to steps to password-protecting your content.
One great thing, LearnWoo offers a free complete set of eBooks about WordPress and WooCommerce essentials. These materials can teach beginners the basics of SEO and marketing for WordPress, how to optimize site performance, how build an online store with WordPress, and much more. This alone make this a great Resource to Learn WordPress.
To access these eBooks, readers must sign up as a premium member of LearnWoo. Becoming a member can also help you to get some expert opinions on any WP query you have.
Once you have a WP site and want to purchase paid themes or plugins, be sure to check LearnWoo's deals section where you can get many WordPress and WooCommerce coupons.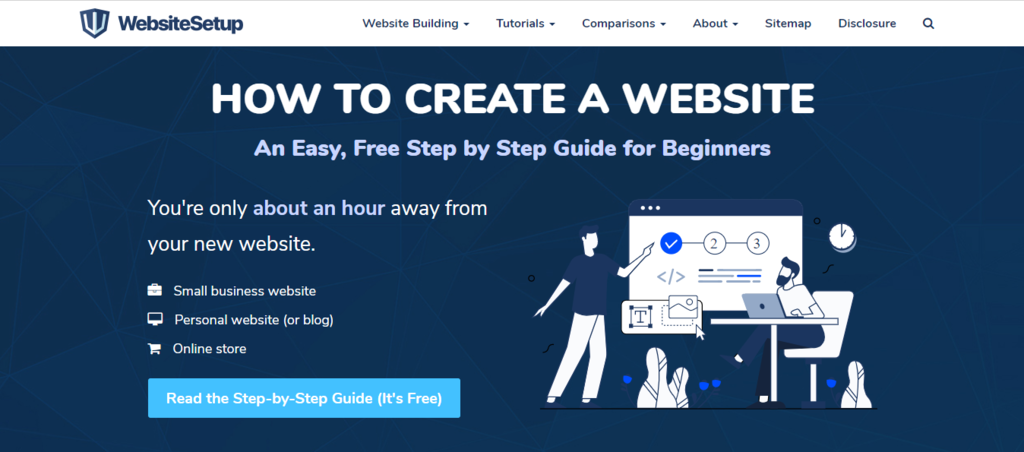 WebsiteSetup is a free online resource for beginners who want to learn web design, development, and WordPress. The purpose of this site is to help you create a website the right way, whether you're a business owner, you're creating a blog, or you simply need a website for a project.
This site has over 100 long-form tutorials and guides with step-by-step instructions, which are easy to understand. Most articles cover website and blog setup, hosting comparisons, HTML & CSS, and advanced WordPress customization. Each post in WebsiteSetup also shows the level of the article, making it easy to see what posts you should read first.
If you're interested in WordPress theme development, WebsiteSetup offers a complete cheat-sheet that shows the most common keyboard shortcuts, commands, and functions to help you with your learning journey.
If you have any questions, the team behind WebsiteSetup is also ready to help you. Feel free to reach out to them through one of their contact options.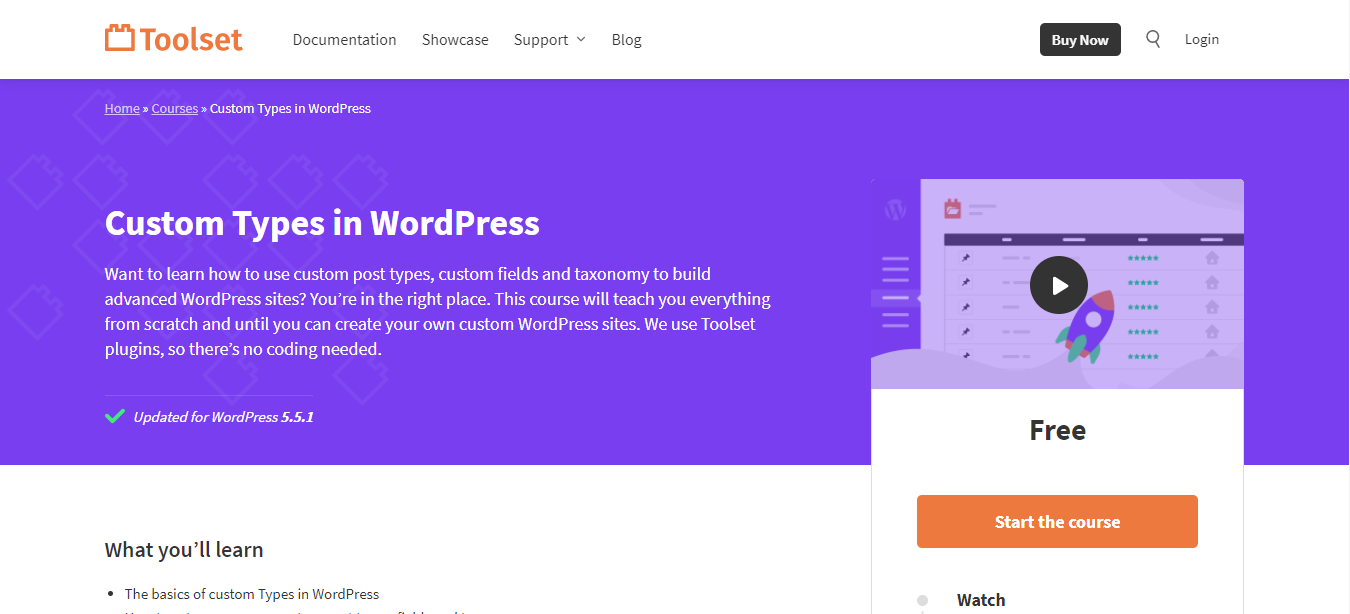 Toolset is a plugin that lets you add custom post types, fields, and taxonomies to your WordPress site without writing any code. Besides helping enhance your blog's performance, Toolset also provides a few free courses to improve your knowledge – one of them is the custom types course.
If you want to build a unique website, then knowing how to use simple pages and posts on WordPress isn't enough – you need to learn how to utilize custom post types and fields. With this course, it's possible to build custom websites and become an expert quickly and efficiently.
This Toolset's course is created for anyone with little to no experience. The lessons are well-planned and neatly-organized. Still, it helps if you have a basic understanding of WordPress fundamentals to get the most out of it.
There are three chapters included in this online course, which explain the basics of custom post types and some advanced techniques to use them.
Each chapter also provides multiple steps explained in videos. You can watch each video in order, mark that lesson as complete, and move on to the next topic.
You'll find a summary at the end of each chapter and some questions to help you understand the topic. Moreover, Toolset provides training material that can be installed on your computer or used on their training site. After learning some practical skills, you can use those new abilities on your projects right away. Toolset is an awesome Resource to Learn WordPress.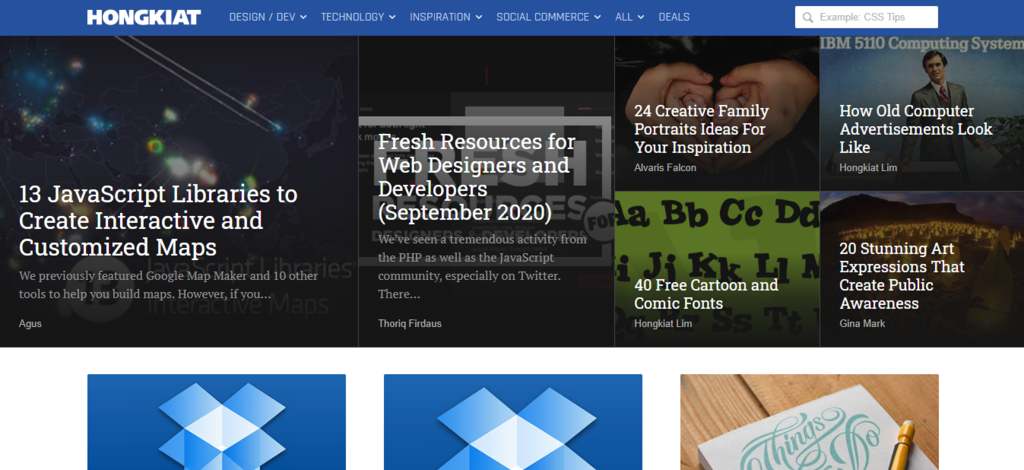 If you're looking for up-to-date content related to design, tech, and technology, Hongkiat is one of the best sites to go to. It regularly publishes new posts weekly, including tutorials, tips and tricks, and tool recommendations.
Most importantly, Hongkiat has a wide range of articles that talk about the nitty-gritty of WordPress. For instance, this site has extensive content that talks about what to do after installing WordPress, such as installing plugins, changing permalinks, and securing your website.
Hongkiat also offers several topics, such as themes, plugins, and WordPress security. Here you can find articles that talk about developing plugins, tools to toughen your site's security, steps to create WordPress themes that sell, and much more.
It also has a free WordPress course for beginners. All you need to do is join Hongkiat's mailing list, via your email address, to access this online course. This is an exciting Resource to Learn WordPress.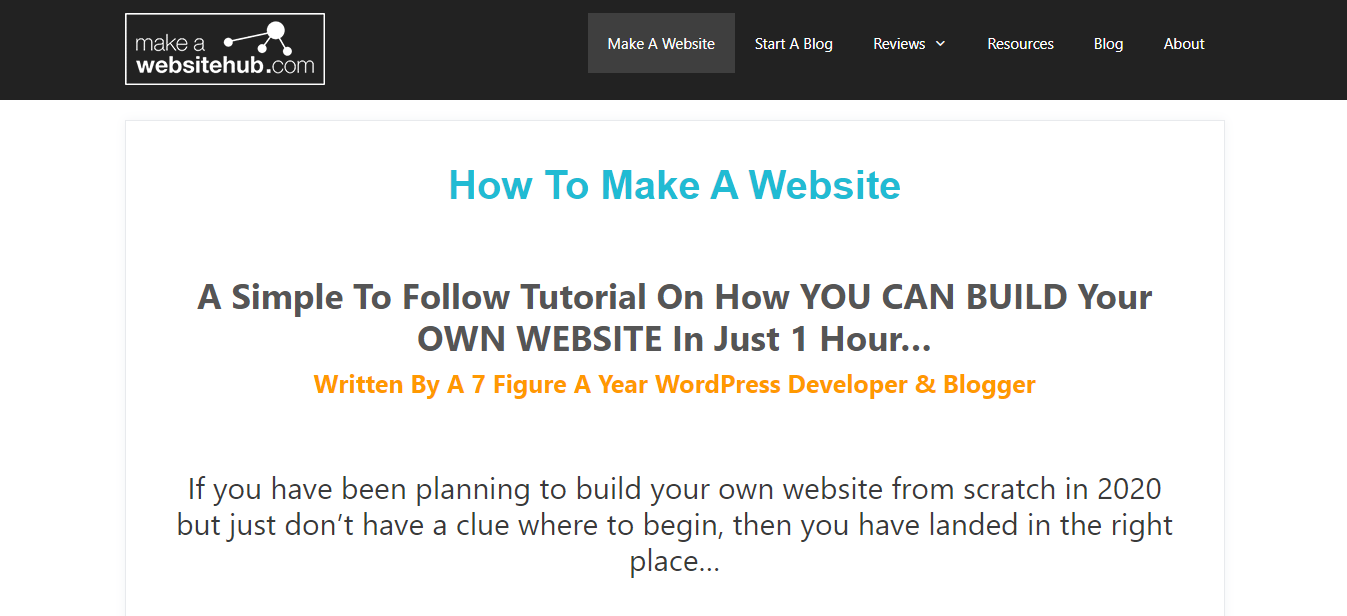 MakeAWebsiteHub provides many WordPress tutorials and product reviews that have been written over the past few years. The purpose of this site is to help beginners who are getting started building a website and to lessen the learning curve of WordPress. It great for beginner and an awesome Resource to Learn WordPress.
Most of the tutorials on this platform are simple to follow and sometimes they even show how much time you need to perform a specific task. Some of the beginner's content you can discover on this site is: How to Start a Blog with WordPress, Beginners' Guide to WordPress Security, and Speed up Your Website.
Moreover, you can see some recommendations for WordPress plugins here, helping you know which tools you should add to your site. Besides that, MakeAWebsiteHub has reviews of best domain registrars and web hosting providers, which you might need when getting started.
WordPress Things to Learn
Since there is a lot of content on how to use WordPress, this part of the article will be about giving you a list of topics that you will find handy when you begin learning. It's not hard to find great Resources to Learn WordPress.
1. What is WordPress and How to Install it
WordPress is a CMS that empowers more than 455 million websites. As such, there are a lot of things you need to know about it, such as how to install WordPress and how to pick your plugins and themes.
You also need to know why you need a domain and a hosting service to install WordPress. Some hosting providers may provide a 1-click installer. However, some providers will require you to install WordPress manually. There are many places to find help and all are awesome Resources to Learn WordPress.
2. WordPress Basic Glossary: post, page, categories, admin dashboard, visual editor, etc.
As a beginner, it's a good thing to know some terminologies related to WordPress, such as the admin dashboard, visual editor, themes, plugins, etc. You will find these words in almost all tutorials on WordPress.
Plugins help you elevate your WordPress website appearance and functionality with little to no effort. There are more than 56 thousand free and paid plugins in the WordPress repository. Moreover, there are thousands of third-party makers that create premium plugins for your website. Thus, you should know which plugins best support your needs and how to install them in your WordPress site.
A site's theme is the face of your website. Just like plugins, there are thousands of themes you can find in the WordPress repository. You also have an option to buy premium themes from third parties as well. Each WordPress theme has its own features and feel. Websites with different purposes will need different themes. Therefore, be careful when choosing the WordPress theme for your website.
5. How to Customize WordPress
Every website is unique and so is the customization. Although plugins and themes can have an impact from the getgo, their default settings may not meet your needs. Therefore, you will need to further customize your website.
Conclusion
Although many people agree that WordPress is friendly for non-technical users, beginners often find it confusing and overwhelming. Therefore, we handpicked the 19 most useful resources where beginners and intermediate users can learn WordPress easily. I hope my list of the best Resources to Learn WordPress will help your journey. And remember THIS website is likely THE best Resource to Learn WordPress!!! But I am a bit biased – LOL. Do you have any experience in learning WordPress from the online learning resources mentioned above? Share your thoughts in the comment section below.
I am the Nerd of Fortune. I have been hustling from home (part-time) for 10 years & working exclusively from home for almost 4 years – and loving it! I am a firm believer in making 'working from home' a success for everyone…